Macon Bank & Trust Company
Inspiration for the Generations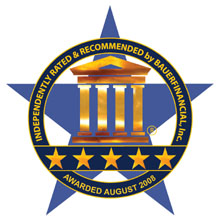 March 2013: Macon Bank & Trust Company, Lafayette, Tennessee, is proud to be recognized as a 5-Star Superior bank by the nation's leading bank rating and research firm, Bauerfinancial, Inc., Coral Gables, Florida. A 5-Star rating indicates that Macon Bank & Trust Company is one of the strongest banks in the nation. Among other factors, to earn this rating Macon Bank & Trust Co. must not only report impressive capital levels, but also an enviable loan portfolio with negligible levels of delinquent loans. The fact that Macon Bank & Trust Co. has earned this 5-Star rating for the last 82 consecutive quarters puts it in an even more elite group of "Sustained Superiority Banks". Only 7% of the nation's banks can claim this distinction.
Karen L. Dorway, president of Bauerfinancial, would like to congratulate the entire team at Macon Bank & Trust Co. "Under the leadership of Radford A. West, CEO, Macon Bank & Trust Co. is one of the U.S. banks that evokes an image of a brighter banking future for our communities. That's good news regardless of your age and income bracket.
Macon Bank & Trust Company first opened its doors in 1919 and has proudly been serving its local communities ever since. It operates through seven conveniently located offices in Celina, Lafayette, Red Boiling Springs and Westmoreland and can also be found on the internet at www.maconbankandtrust.com.
Macon Bank & Trust Company: "The Best in Community Banking Since 1919."