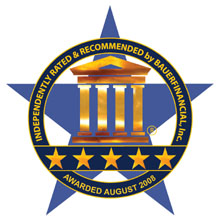 5-Star Macon Bank & Trust Company Forging Community Partnerships for 97 Years
April 2016: Macon Bank & Trust Company, Lafayette, Tennessee is honored to announce it has once again earned BauerFinancial lnc.'s highest 5-Star Superior rating. Earning and sustaining Bauer's highest rating for the most recent 98 consecutive quarters puts Macon Bank & Trust Company in an even more elite group of "Sustained Superiority Banks". This designation is only available to the top 10%, those banks that have maintained their 5-Star rating for longer than 90% of the industry.
BauerFinancial Inc., Coral Gables, Florida, the nation's bank rating firm, has been analyzing and reporting on the nation's banks since 1983… providing ratings you can trust. A 5-Star rating by Bauer indicates that Macon Bank & Trust Company is one of the strongest banks in the nation, excelling in such areas as capital, loan quality, profitability and much more.
Karen L. Dorway, president of BauerFinancial, recognizes that, "As market conditions continue to change, banking institutions must be adept enough to evolve with them. With Macon Bank & Trust Company's stellar financial condition and track record, we have no doubt in its ability to do so. The community is privileged to have such a strong financial partner in its midst."
Established in 1919, Macon Bank & Trust Company has been serving its neighbors for the past 97 years. Today it operates through seven conveniently located branch offices in Celina, Lafayette, Red Boiling Springs and Westmoreland and can also be found on the internet at maconbankandtrust.com.
Macon Bank & Trust Company: "The Best in Community Banking Since 1919."